100 Horseneck Rd, Montville, NJ 07045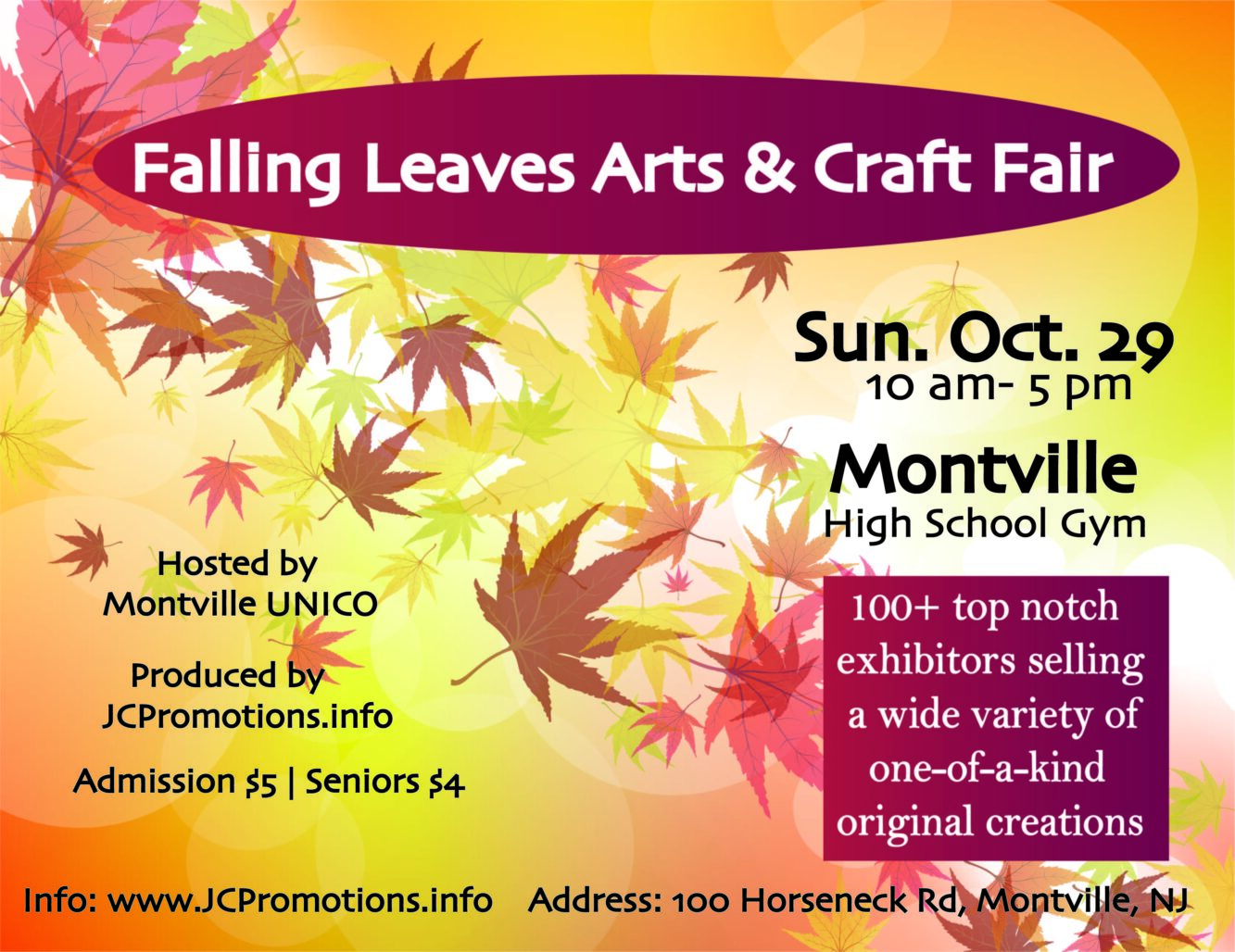 Falling Leaves Arts & Crafts Fair
JC is very excited to bring you our newest juried arts & crafts fair held indoors at Montville, NJ High School, located in Morris County. This event is hosted by Montville UNICO.

It will feature approximately 100 exhibitors selling their original works. You will find top notch makers selling one-of-a-kind handmade items such as, fashion and accessories, jewelry, metal, wood, mixed media, repurposed items, furniture, home décor, fine art, photography as well as functional and sculptural works in ceramics, glass, and more! There will also be a section for specialty foods.
This event will be held indoors in the main gym and the entrance foyer. Admission is $5 per person, Senior $4 and kids under 12 no charge. Any school organization that is interested in participating please call Cissy to book a space at a reduced rate.

Parking is abundant in the high school lot in front of the school.
Our event host organization, the Montville UNICO Foundation is dedicated to the education and support of individuals, families and other charitable organizations in our community. Since 1989 Montville UNICO has contributed over $2 Million to those in need. Charitable service is expanded through the Montville UNICO Foundation, which enthusiastically works to fulfill the community's needs through financial support or goods & services.
Exibitor Info
THIS EVENT IS SOLD OUT. There is a possibility that we can get additional space in the school. JC is creating a waiting list. If you are an exhibitor of your own hand-crafted items, you may request to be on our waiting list by sending us an email with pictures and a description of your work. However, we are not accepting these items: jewelry, candles, body products, and crochet items. We have a number of exhibitors already selling these items.
events@jcpromotions.info.
Thank you, Cissy Gialanella