Held along 200 South Ave and Martine Ave
Fanwood NJ 07023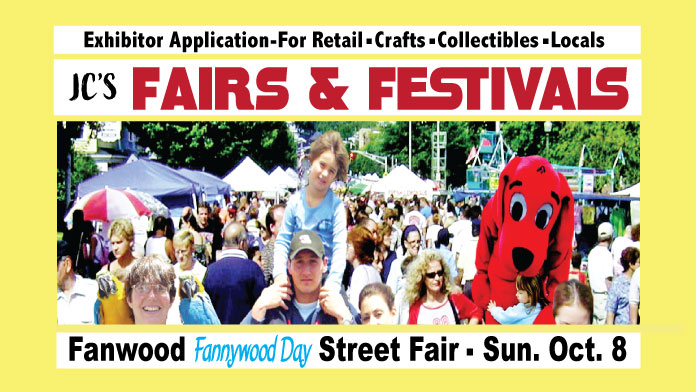 26th Annual Fannywood Day Street Fair

Hosted by the Borough of Fanwood NJ & the Fanny Wood Day Committee, Fanny Wood Day is much more than just a street fair. Besides the many food and craft vendors, this year's Fanny Wood Day will host a wide array of activities including the return of kid-friendly activities in the KIDS ZONE such as a trackless train, petting zoo, pony rides, and numerous kiddie rides.
Fun games & activities…from 10:00 am to 5:00 p.m. – Visit us at the south side train station parking lot on South Ave in the Kids Zone. Free activities with Scotch Plains -Fanwood YMCA include: Paint your own "Y" T-shirt, Make your own slime, Corn hole games, Soccer goal kicks- Obstacle course.
Fun & games…back by popular demand are many of the same contests such as the scavenger hunt, pizza eating, ice cream eating, bubble blowing, water balloon toss, and more!
Delicious food…If contests aren't your thing, grab some delicious food from one of the many food exhibitors and trucks. Some of the foods being sold are gourmet empanadas, tornado potatoes, shish kabob, gyros, chicken fingers & fries, hot dogs, hamburgers, fresh squeezed lemonade, ice cream & lemon ice, sausage & peppers, steak sandwiches, and zeppoles, funnel cakes and more!
Live Music...Don't miss the hot show we have planned with live music from local bands. There will be chairs and tables set up so you can relax, eat and enjoy the show all day long.
Shop…with quality exhibitors selling their merchandise such as jewelry, handbags, sports collectibles, clothing, home decor, and much more. There is a special section with handmade crafts from local and nearby crafters and artisans with unique one-of-a-kind items. Don't miss stopping by the many local merchants & civic organizations to see what goodies they are passing out.
Fanny Wood Day has something to offer everyone, so kick back for some serious people-watching, stroll the many interesting booths, visit the local merchants, eat some great food while listening to music and enjoy a beautiful day in Fanwood.
Customer parking is available at the train station on the north side. Use this address to find that station: 234 North Ave., Fanwood, NJ.
___________________________________________________
Vendors Space Pricing-Application Information
Pricing:
Crafters Corner: space size | 10' x 12' | $140 | this area is strictly for artisans and craftspeople. No retail or buy-and-sell is allowed here.
Retail Vendor Area: space size | 12' x 10' | $175 this area is for vendors selling other items besides arts & crafts and business promotional.
Business/Promotional: space size 12' x 10' | $375 | this section is limited to how many promotional companies we accept into each event. Your space will be among the other vendors and not all together. You are permitted to gather information from attendees, demonstrate, promote, give away promotional items, etc.
Event Sponsorship: please call the office for info & available programs & pricing.
Application Information:
JC will be excepting applications for this event as soon as the applications become available through an online site named Booth Central. Click the vendor button on the top left to go to Booth Central for the application. Sign up as a booth host.
We are no longer using paper applications. If this is an issue for you please contact JC and we will assist you.

Thank you, Cissy
events@jcpromotions.info 201.998.6311