936 Allwood Rd & the corner of Clifton Ave Clifton NJ 07012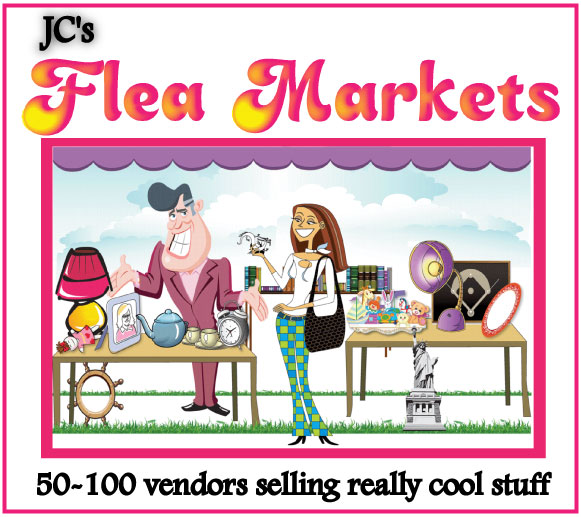 Jubilee Park Flea Market & Collectibles
SELLING FOOD at JC FLEA MARKETS

Jubilee Park is one of JC's favorite markets. It brings in a great number of vendors selling a wide selection of merchandise…new & old. This beautiful park is located on the corner of Alwood Rd. & the corner of Clifton Ave. Clifton, NJ. Use the address of 936 Allwood Rd. in your GPS.
These are the 2023 dates for JC's event in Jubilee Park:
Sundays-April 2, May 7, and Oct. 22: on these dates, JC runs Flea Markets & Collectible markets.
Sunday-Aug. 6 (rain date 9/3) JC runs our annual Vintage & Crafts Fair on this date. (Vendor reservations are required for this particular event-go to

Shopping
There will be exhibitors displaying an array of quality merchandise such as new items, crafts, vintage & antique items, beauty & fashion items, sports collectibles, gift items, plants, bric-a-brac, tag sale, gently used items, and dollar items.
It's a shopper's delight. You'll meet many very nice vendors selling very cool items. This event is popular with our following of customers and vendors alike. It's not unusual for upwards of 100 vendors to show up at one or all of the 4 times that JC runs this market in Jubilee Park.
Complimentary vendor booth space
Any Clifton school and/or local organizations that would like to participate by having an exhibitor space to sell their items and/or promote their club are welcome to reserve one of the 4 spaces that will be offered free. Please contact JC for a reservation.
Proceeds from this Fundraising Event
The proceeds from this event go to the Clifton Recreation Dept. & the Clifton Boys & Girls Club.  They use this income to help improve their facilities and services to their community and also to help run their own events.

About JC
JC Promotions, Inc. a fundraising company that produces flea markets, street fairs, food truck festivals, vintage markets, vendor pop-ups, and arts & craft shows throughout NJ for over 50 organizations, is coordinating this event in conjunction with Clifton Recreation.
Vendor Info
We do not take reservations for OUTDOOR Flea Markets. It is on a first-come, first-serve basis. It's simple: just go to any "outdoor" Flea Market on our event calendar the morning of the event between 6:30-8:30 AM and bring your own tables, chairs, tents, etc. When you arrive you will see the vendor lineup. When your turn comes, we will place you in booth space.
Vendor Fee
The price is $55 for a 20′ space with your car. Cash only on the day of the show, and then give you a chance to set up before we collect. The Flea Market is open 9-5 PM. Vendors are expected to stay the entire length of the event. If you plan to leave early, please inform us when arriving so we can place your booth space near an exit.
JC's FREE monthly eNewsletter
For all our most updated event information follow JC on our social media platforms at the bottom of the page. Here you can also sign up for our monthly e-newsletter.