1400 Main Ave
Clifton NJ 07011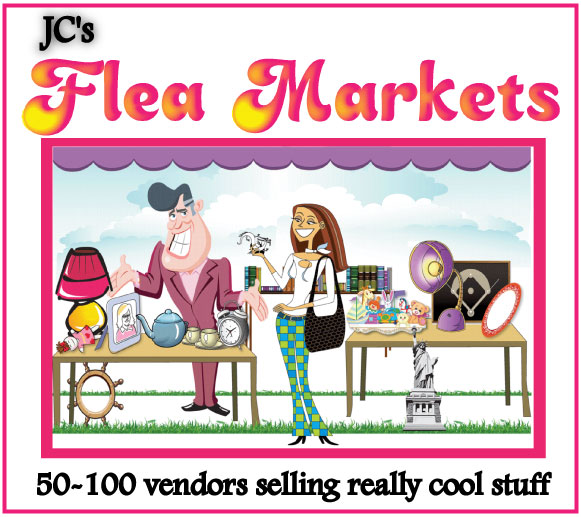 This is a makeup date for this market that was rained out this past month.  This market is always held on the 2nd Saturday of every month.  This is the 1st time we will be there on a Sunday. We hope all the followers of JC's events come out to help us make it successful.

This outdoor flea market has been a favorite venue for vendors and customers alike for over 16 years. Held along one of the busiest streets, Main Ave. in Clifton gives this event maximum exposure to attract visitors.
Main Memorial Flea Market features vendors selling everything from new items, 2nd hand items, collectibles, antiques, and much more.
Customers…if you have stuff from home that you would like to clear out, why not come to our market and sell your items.  It's easy and profitable and we guarantee you'll fall in love with being a vendor.  We can walk you through the simple process to get started. Just give us a call or email.
Most of JC events are fundraisers for the over 30 groups that we work with. This event is a fundraiser for the Clifton Recreation Department.  http://cliftonrec.com
So we hope to see you at this or all of our fabulous flea markets as a customer or vendor.
Vendor Info:
Space fee: is NOW $55 for all single space, whether you are selling new or 2nd hand items. The space size is 20′ deep x 20′ wide.  Your vehicle can stay behind you.
Reservations: This time of year, most of JC's flea markets are held outdoors in parks, parking lots, etc. No reservations are required for outdoor vending space. Just show up in the morning between 6:30 AM to 8 AM, and get into the vendor lineup.

For all our most updated event information follow JC on our social media platforms at the bottom of the page. Here you can also sign up for our monthly e-newsletter.
201.998.1144  events@jcpromotions.info