299 Market St
Saddle Brook NJ
07663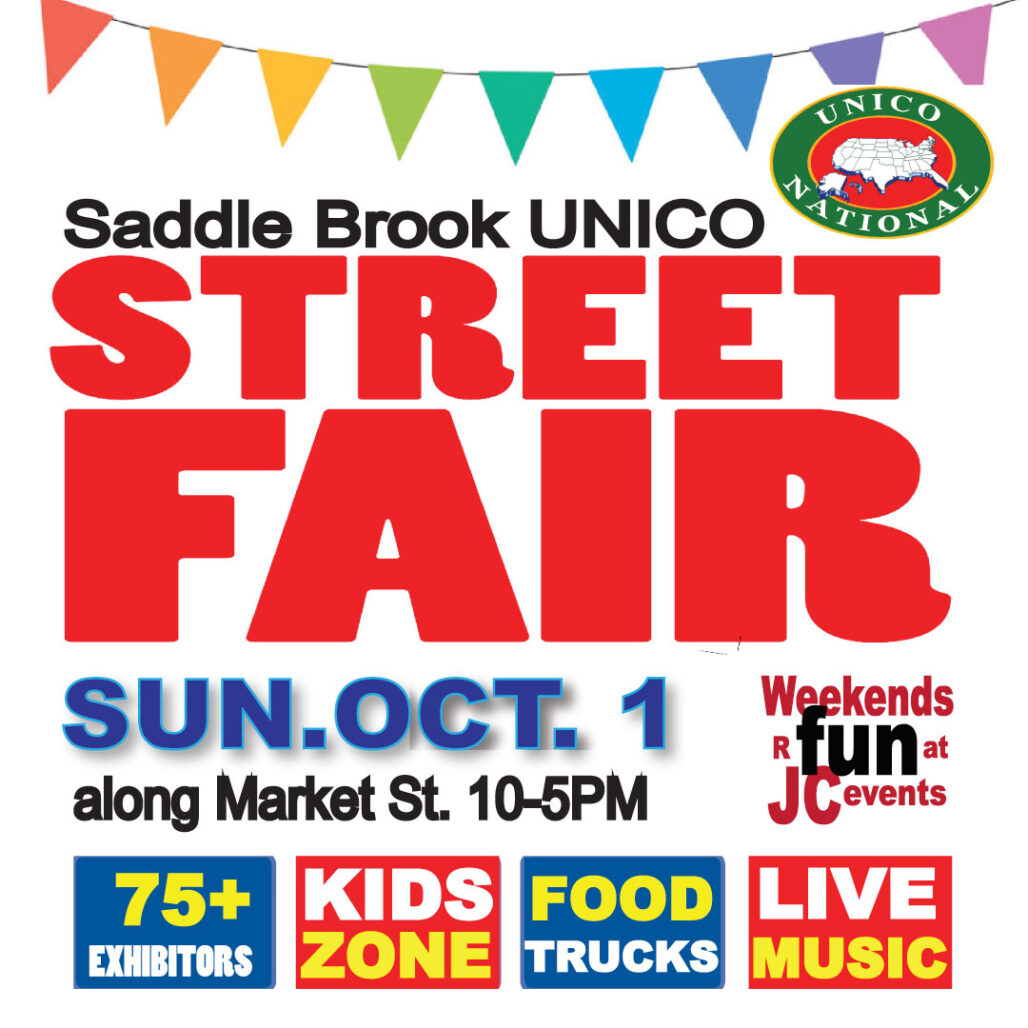 Saddle Brook Fun Family Street Fair
Join us at the Annual UNICO Street Fair held along Market Street between Mayhill Street and Westminster Place from 10 AM – 5 PM.  The street will be closed to vehicle traffic and transformed into a giant town block party. There will be merchandise & craft vendors, kiddie rides, great food, local merchants, and civic groups & music.
VENDORS
Shop with quality exhibitors selling their merchandise such as jewelry, handbags, sports collectibles, clothing, home decor, and much more. There is a special section with handmade crafts from local and nearby crafters and artisans with unique one of kind items. Don't miss stopping by the many local merchants & civic organizations to see what goodies they are passing out.
GOURMET FOOD TRUCKS
As you stroll along stop to have a bite to eat … come hungry and enjoy eating gourmet food trucks, carnival food favorites like a sausage & pepper sandwich, cheese steaks, kettle corn, chicken fingers, ice cream, zeppole, shish kabobs, gyros, fresh cut fries, fresh squeezed lemonade, Italian ice and the many great gourmet foods from the food trucks.  Check out the full list of food trucks below.

KID'S ZONE
We also have The "Kidz Traveling Shindig" which is a section dedicated to children with kiddie bounce rides, slides, and interactive blow-ups, face painters, sand art & kids' games just to name a few things.
Vendors Space Pricing-Application Information
Pricing:
Crafters Corner: space size | 10' x 12' | $140 | this area is strictly for artisans and craftspeople. No retail or buy and sell is allowed here.
Retail Vendor Area: space size | 12' x 10' | $175  this area is for vendors selling other items besides arts & crafts and business promotional.
Business/Promotional: space size 12' x 10' | $375 | this section is limited to how many promotional companies we accept into each event. Your space will be among the other vendors and not all together. You are permitted to gather information from attendees, demonstrate, promote, give away promotional items, etc.
Local Non-Profit Organizations-UNICO members-Local Businesses: (located on the street fair site space size | 12' x 10' | $50. This area is for local people ONLY

Food Vendors: $250 / please call the office for availability 201.998.1144 or email us at foodservice@jcpromotions.info
Event Sponsorship: please call the office for info & available programs & pricing. events@jcpromotions.info
Application Information:
JC will be excepting applications for this event through an online site named Booth Central. Click the vendor button on the top left to go to Booth Central for the application. Sign up as a booth host.
We are no longer using paper applications. If this is an issue for you please contact JC and we will assist you.
Thank you, Cissy
We hope that you'll consider joining us and we look forward to seeing you.
events@jcpromotions.info    201.998.6311