Sunday, June 25, 2023
Rain Date: Sunday, July 16, 2023
1304 Sloatsburg Rd., Ringwood, NJ 07456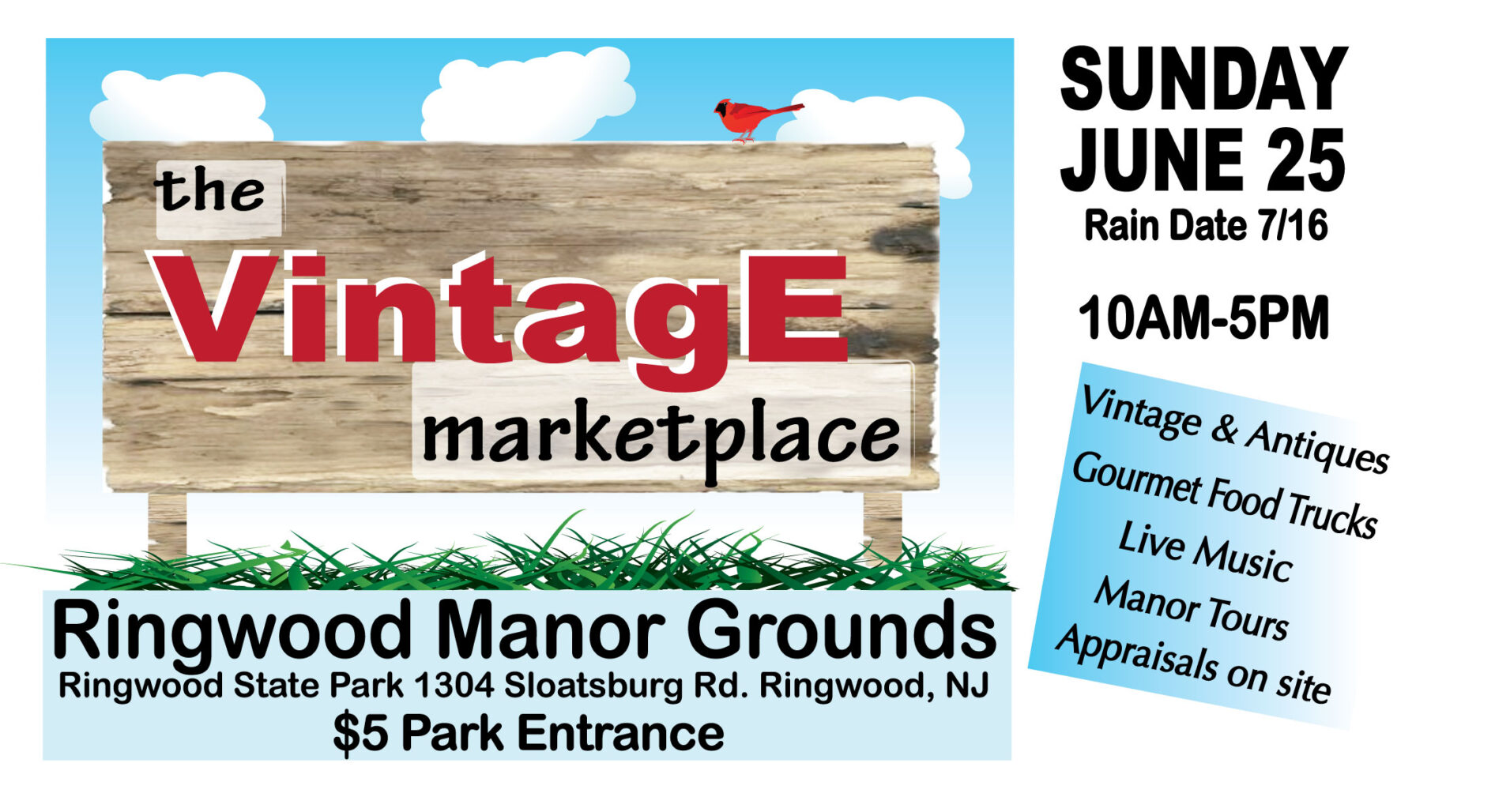 Vintage & Collectible Market at the Ringwood Manor
Join us at the Ringwood State Park where you'll find approximately 50 dealers selling vintage & collectibles. It will be held outdoors on the lawn of the Ringwood Manor.
Dealers This event will feature dealers selling everything from shabby chic to antiques, salvaged items, vintage and antique furniture for the home and garden, architectural salvage, vintage-inspired jewelry, repurposed and upcycled treasures, vintage clothing, and who knows what else.
Food Trucks There will be an array of gourmet food trucks, live music, and manor tours throughout the day. Bring your valuables… there will be a certified appraiser at this event.
Appraiser Jon Felz of RMZ Antiques: only from 12 pm to 4 pm $10 per item, first come, first serve. No antiquities, please (items more than 700 years old). Bring your valuables to be appraised.
Ringwood Manor Tours Self-guided tours only from 10 am to 4 pm, $10 for adults, $8 for seniors (62+), $5 for children (6-12), and children 5 and under free. Come early because it does get busy.
Dealer Info This event is not a flea market so please no flea market items. Dealer spaces allow you to keep your vehicle behind you. Prepaid reservations are recommended for prime space on the front lawn plus you save $10 by prepaying. No risk because we have a raindate…just in case.
Dealer space: size is 20′ x 24′ with your vehicle at your space.
Price: $65 prepaid / $75 day without reservations
Online Application You are accessing the application through Booth Central. This is a site that handles JC's reservations. Once you apply and are accepted into this event, you will receive an email confirmation. It's best to add this email address (noreply@boothcentral.com) to your email contact list, otherwise, your confirmation may go to the spam folder.