Held along 216 Boulevard
Hasbrouck Heights, NJ 07604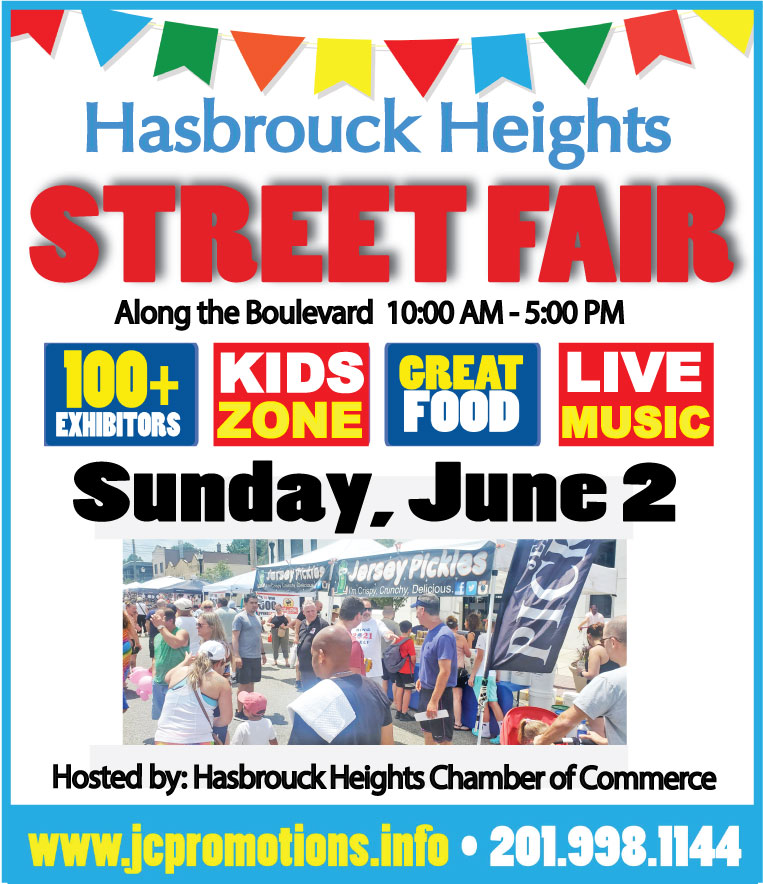 What, when & where:
The Hasbrouck Heights Regional Chamber of Commerce is the sponsor of the borough's most popular spring event, held annually along the Boulevard. It features area merchants, quality exhibitors, a special crafter's section, lots of great food booths and trucks, kiddie rides and a kids' area, live music, performances by local groups, and more.
The Boulevard will be closed to vehicle traffic from Raymond St to Washington Place and is open to the public from 10 am-5 pm.
Here are some of the attractions we will be having. Concerts featuring excellent entertainers on the main stage on Raymond St, and demonstrations from karate schools, dance schools, and music schools on the local stage on Hamilton Ave. A children's entertainment area with kiddie inflatables, a trackless train, face painters, games, sand art, and more fun stuff to do.
Come hungry! Some of the local eateries will be participating in outdoor dining along with a variety of gourmet food trucks and food vendors serving gyros, shish kabobs, zeppoles, funnel cakes, fried oreos, sausage & pepper sandwiches, empanadas, cheese steaks, Kettle corn, ice cream, lemon ice, candy and nuts, sweet bread, jams, sticky buns, burgers, fries, hot dogs, ice cream, lemonade and more.
If you like shopping this is the place to be. This festival will feature over 100 exhibitors and local merchants selling products, new items, and collectibles. There is a special section with handmade crafts from local and nearby crafters and artisans with unique one-of-a-kind items. Also, stop by the many sponsor booths to see what goodies they are passing out.
We hope that you'll consider joining us and we look forward to seeing you at this year's event.
============================================================
Vendors Space Pricing-Application Information
Pricing:
Crafters Corner: space size | 10' x 12' | $140 | this area is strictly for artisans and craftspeople. No retail or buy-and-sell is allowed here.
Retail Vendor Area: space size | 10' x 12' | $175 This area is for vendors selling other items besides arts & crafts and business promotional.
Business/Promotional: space size 10' x 12' | $375 | this section is limited to how many promotional companies we accept into each event. Your space will be among the other vendors and not all together. You are permitted to gather information from attendees, demonstrate, promote, give away promotional items, etc.
Food Vendors: $250 / Send a request to: foodservice@jcpromotions.info along with your menu and pictures of your truck or call the office for availability and application process (different than this application)
Event Sponsorship:
Thank you, Cissy
events@jcpromotions.info 201.998.6311
---
Food Trucks